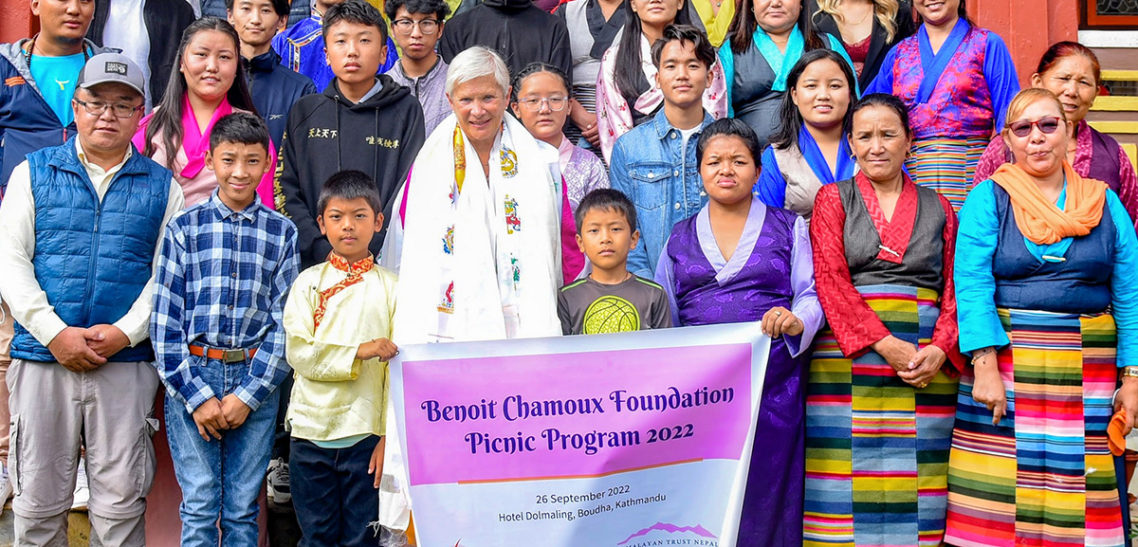 Every year, a picnic program is organized by Himalayan Trust Nepal wherein Ms. Fabienne Clauss, the President of the BCF meets the children supported by the foundation accompanied by their parents and interviews them. Unfortunately, due to the Covid-19 restrictions, Ms. Clauss was unable to visit Nepal for almost three years, however this year she was able to do so and meet the children and their parents
To make the moment a bit more special, Himalayan Trust Nepal organized a celebration ceremony marking the 26th anniversary of the foundation and its partnership with the trust. The program was held on 26th September 2022 at Hotel Dolmaling, Bodnath, and attended by more than fifty guests comprising of the both present and alumni students with their parents followed by Mr. Sonam Gyalzen Sherpa, honorable member of the national assembly, Mr. Mingma Chhiri Sherpa, chairperson of Khumbu Pasanglhamu Rural Municipality, Mr. Zinpa Gesi, principal of Rolwaling School and the board members and staffs of Himalayan Trust Nepal.
The program started with a brief welcome remarks from Dr. Mingma Norbu Sherpa, CEO of Himalayan Trust Nepal. After two of the students Nawang Palden Sherpa and Karma Tshering Sherpa greeted Ms.Fabienne Clauss with a bouquet and khata. Later a traditional welcome ceremony was performed by the parents and the students. After that the regular individual interview sessions took place until lunch. After lunch we had a brief presentation by Phurba Chheten Pradhan highlighting the background of BCF and the updates on the students.
Then, there were some performances from the present students which comprised of gratitude speech from Pasang Gyalzen Sherpa followed by a dance performance from Pasang Phuti Sherpa and Yonden Dolma Sherpa.
Finally we also had a cake cutting ceremony and Himalayan Trust Nepal and Rolwaling School presented appreciation certificates to Benoit Chamoux Foundation for its continued support since 1996.