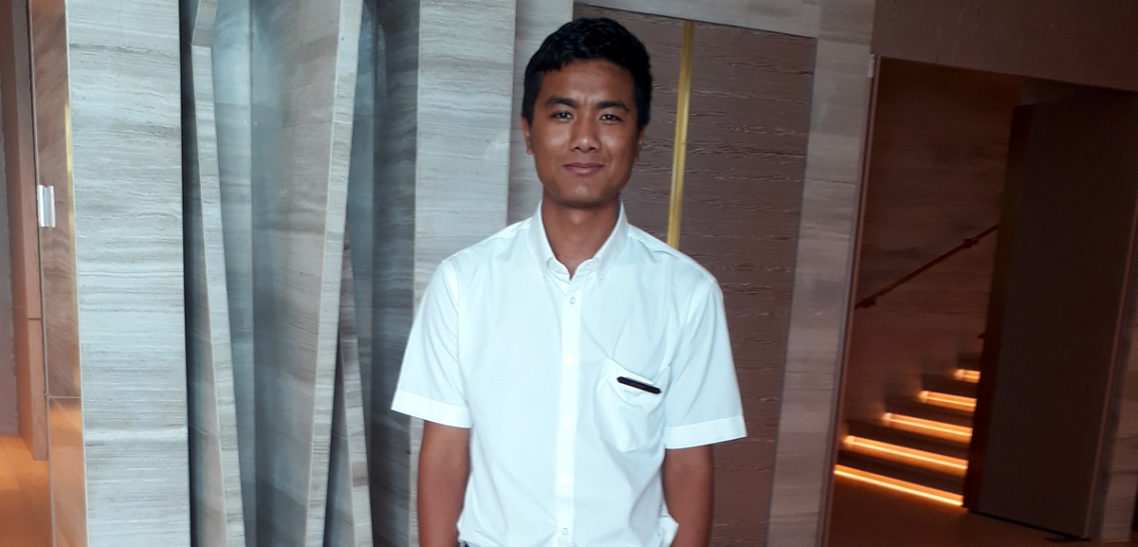 «My caretaker was and has always being my family i.e. THE CHAMOUX FOUNDATION and the bridge leading for my caretaker was THE HIMALAYAN TRUST.
I, Phurba Sherpa, was just a child when my father the supporter of my family was passed away. My father was a mountain climber which is a risky job and it took away his life while he was mountain climbing. I was unaware of what was going on at the time as I was just a child. But I remember the effect that it had on my family as we had no one to earn income. But my mother somehow struggled on her own to earning income and provide for us so that me and my brother to study. I still remember how difficult it was for my mum to earn as before she was just a housewife.
When I was first introduced to the family of THE CHAMOUX FOUNDATION and THE HIMALAYAN TRUST in 2007. That was one of my happiest moment for me and my family. I always thought of this as a miracle because what THE CHAMOUX FOUNDATION and THE HIMALAYN TRUST has provided me was only possible in dreams. When I first visited the mother Fabienne Clauss, it was very grateful as she treated all the children including me as her son and daughter. She came every once in a year and held a picnic with all the children that was supported by THE CHAMOUX FOUNDATION. We all were excited as she brought along the gifts i.e. toys and clothes. She and the supporter of The Himalayan Trust uncle Ang Rita would spend all day with us meeting every one of us and talking about our future. These are such a wonderful memories for me. And I was also very grateful to THE HIMALAYAN TRUST who support not only as a bridge but also have provided guidance to me.
Over time, I went further with my studies with the support of THE HIMALAYAN TRUST and THE CHAMOUX FOUNDATION and completed the university in Bachelor in Hospitality and Tourism Management recently at January 2018. Before the completion of university. I had to go a 6 month internship which I did at a hotel in Bangkok, Thailand. That was a great opportunity to learn about new things and experience in the field. I got to travel to a new country, meet new friends and people, experienced work of the hotel, learn new concepts and new technology applied in hotel.
After my completion I was wondering about getting experiences in the hotel field and mark my future in there. As always, our mother Fabienne was in full support of me and provided me the opportunity by getting me interviewed in one of the reputed hotel (i.e. FIVE PALM JUMERIAH) residing in Dubai. And not to forget about uncle Pasang who also supported me in fulfilling my career in hotel industries and helping me to get the job in hotel. As of now I am working in the field of hotel as a server in hotel Five Palm Jumeriah to get experiences and improve myself to help me provide a better future.
Last but not the least I am and will always be grateful and thankful to mother Fabienne Clauss, THE CHAMOUX FOUNDATION who always supported me and pushing me to become an ambitious person. And also, to THE HAMALAYAN TRUST who became a bridge on my support and providing me a guidance.»