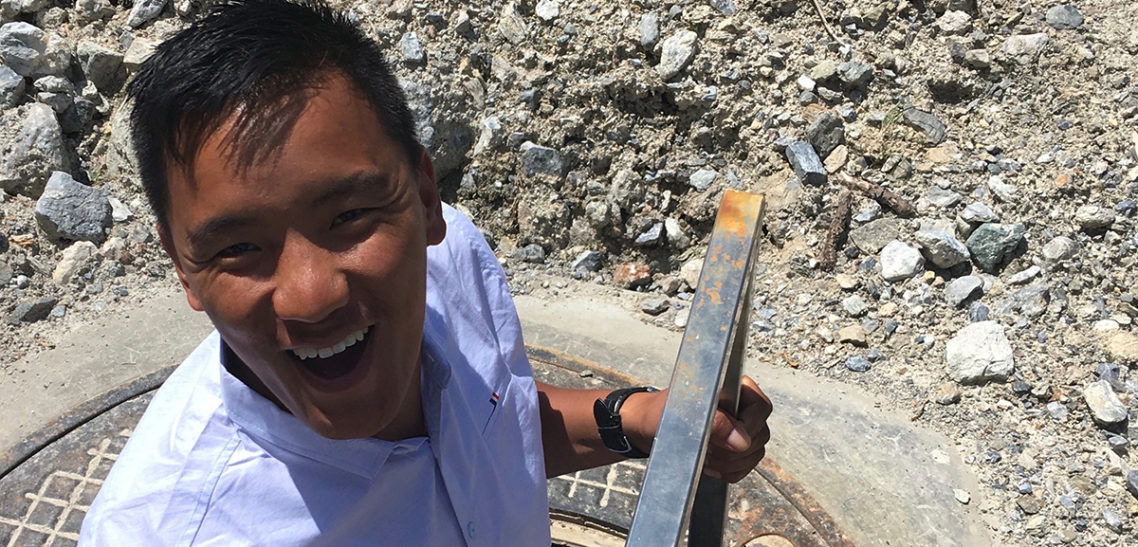 "Namaste! I am Nima Tenzi Sherpa. I was born on July 12, 1994, in a remote village located in the northeast part of Nepal, Solukhumbu. I grew up as the fourth child in my family, grazing cattle, collecting firewood, working in the fields before and after school every day. Now I work as a civil engineer in Katmandu and have already worked on many construction sites in Nepal. This article explains my journey between those two things.
Being a member of a typical Sherpa family, we had to speak our mother tongues so it was somewhat difficult to learn Nepali language within the Sherpa community at our place. Like other children, I went to school each day to learn school education and Nepali language. I remember those days, playing with friends and being in our own world. About my parents: my father was a trekking guide and my mother was a housewife who took care of us. Every day was similar for us with the same routine and same place until we heard the devastating news about our father. It was the year 1999; my father went to the mountain and never returned home. On April 29, 1999, my father died in Mt. Annapurna I (8091m), while returning from the summit to base camp. Then my mother had to struggle a lot for the family being a Sherpa widow because my father was the only person earning for our family. It was 2004 when I got the opportunity to be connected with Fondation Benoît Chamoux, with the help of Himalayan Trust Nepal, it was the turning point of my life. I now realize how important and life-changing moment that was for me. I had to come all the way from my village to Kathmandu for my schooling after the confirmation of my scholarship program from the Foundation. I was able to join Anandakuti High School in grade III with the full support of Foundation. In the beginning, it was a completely new experience for me in the boarding school. Somehow, I managed and worked hard with the help of my friends and teachers during my days in Anandakuti. However, because of some health issues in the school, we were transferred to another school in Kathmandu, Himalaya International Model School (HIMS). I did well in this school, learned many new things, and about life. I would like to share that I am a civil engineer right now because I had these feelings when I was in grade IX. Now I believe that when you have a dream and you work for it from your heart you will achieve everything you deserve eventually. In 2012, I topped my SLC batch from HIMS, which was my first achievement in the educational career. After then, for my high school, I joined Little Angels' College, Lalitpur. I spent my two years in LAC staying in a hostel to study science with the full support of the foundation. I studied well and graduated from high school with good marks in 2014. During high school, I got more knowledge about the scope of civil engineering and the importance of civil engineer for developing countries like Nepal.
After high school, I decided to give the entrance exam of the Institute of Engineering (IOE) to get admission for my bachelor's degree in engineering here in Nepal. As the Foundation gave me a positive response to my decision, I joined Kathmandu Engineering College (KEC) in 2014 to achieve my further degrees. I studied the Bachelor's program in civil engineering in KEC for four years. Within those four years, I got the chance to explore many things related to civil engineering and constructions. After I completed my Bachelor's degree program, I did an internship at Structo Nepal Pvt. Ltd and then later worked as a site civil engineer for Green Hill Construction Pvt. Ltd in Nepal.
After my internships were over, I got the visa of Switzerland. I got the chance to work in and visit hydropower stations of Switzerland for 3 weeks through the help of Fabienne Clauss. I had my internship at Provedimaint Electric Müstair (PEM) in Sta.Maria, Val Müstair, Switzerland. In those 3 weeks, I learnt many new things and gained extra knowledge about hydropower. I feel so happy that I utilized every second of my visit to Switzerland.
Right after I returned from Switzerland on July 2, 2019, I got hired as a civil engineer in one of the best NGOs in Nepal: 'Um Hong Gil Human Foundation'. Currently, I am involved in designing and constructing school buildings in different parts of the country through the NGO.
I am proud to say this new role suits me and I am having a great time of my life, along with challenges and obstacles. Many people have invested in me; for now, I would to like to thank Fabienne Clauss and all the kindhearted members of Foundation and Himalayan Trust for all the support and care.
Nima Tenzi Sherpa
Official civil engineer