The children of the Foundation
Over the past 23 years the Foundation has developed seven Sherpa cultural projects in the valleys of Everest, Solu Khumbu and Makalu (renovation of mills, chörtens and monasteries). Most importantly, it helped to fully educate 38 orphaned children whose fathers have died on Himalayan expeditions.
In 2019, we still support the education of 18 students (including two new ones).
The new candidates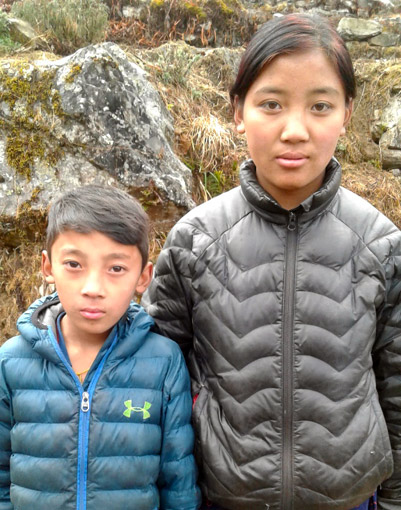 Kusang and Lhakpa Yangjum
Kusang class 1, and his sister Lhakpa Yangjum, class 7, Kharikhola. Their father died in the avalanche of Everest in 2018 and their mother died in 2016. Touched by their distress, we decided to accompany them in their studies beginning in April 2019 at Little Angels' school under the wing of the Foundation.
Other candidates are waiting, which is why we need new sponsors.